Introduction to R.O.S.S.
The Resident Opportunity and Self-Sufficiency grant program is designed to assist residents of Public and Indian Housing make progress towards economic and housing self-sufficiency by removing the educational, professional and health barriers they face.
WHAT IS SELF-SUFFICIENCY? Self-Sufficiency is defined as a household's ability to maintain financial, housing, and personal/family stability. It is also defined as a resident's ability to progress along the self-sufficiency continuum through training and the utilization of supportive services. In the case of elderly residents and residents with disabilities, self-sufficiency is further defined as the utilization of supportive services which enable them to age in place or remain living independently for as long as possible.
The Community Development Administrator will provide general case management to residents which includes intake, assessment, education, and referral service to providers in the community.
Contact us to participate in ROSS Services
LINDA GOUGE, COMMUNITY DEVELOPMENT ADMISNITRATOR
405.617.3438
405.273.1050 ext. 262
Emergency Contacts | Police Departments

Emergency                                                       911

Oklahoma Resource Line                               211

Poison Control                                                 1-800-764-7661

Parent Hotline                                                  1-877-446-6865

Child Abuse Hotline                                         1-800-422-4453

24 Hour Hotline

National Domestic Violence Hotline               800-799-SAFE

National Suicide Prevention Hotline               800-273-8255

Suicide & Crisis Lifeline                                   988

                                                                           Text NATIVE to 741741 for free  

Police Departments 

Pottawatomie County Sheriff's Office           (405) 273-1727

Shawnee, OK Police Department                   (405) 273-2121

Absentee Shawnee Tribe Police Department  (405) 275-3200

Tecumseh Police Department                         (405) 598-2115

Asher, OK Police Department                         (405) 784-2424

McLoud, OK Police Department                     (405) 964-3325

Moore, OK Police Department                        (405) 793-5171

Norman, OK Police Department                     (405) 321-1600
RESOURCES AND RELATIONSHIPS
ONAC- Oklahoma Native Assets Coalition, Inc.
NAIHC- National American Indian Housing Council
SPIHA- Southern Plains Indian Housing Association
NAHRO- The National Association of Housing and Redevelopment Officials
The Absentee Shawnee Housing Authority and Absentee Shawnee Tribe Agriculture Department has partnered together in creating a senior community garden. Our goal is to be able to provide healthy foods for our senior residents and also to provide opportunities for a sense of community fellowship, maintaining the garden can be therapy and host classes.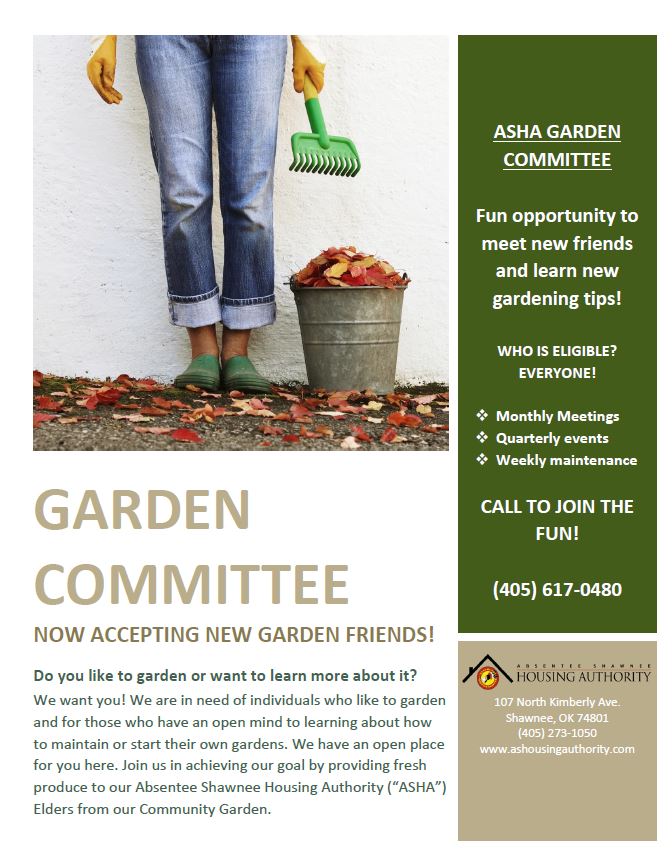 Main Office
107 North Kimberly Ave.
Shawnee, OK 74801
(405) 273-1050